Do you want to level up your pasta game in time for the next potluck? Try this linguine with salmon recipe. It's an upgraded but easier version of your typical carbonara. You'll only need a single filet of fresh salmon so it won't be too pricey. The best of both worlds! Feel free to swap it out for canned salmon to reduce costs further and minimize prep time. Everything else you'll need should be in your pantry already.
This pasta is sure to be the highlight of your handaan. It has a rich, cream-based sauce lightly seasoned with spices and coconut, which pairs well with the earthy fish. The truffle oil in the recipe is optional unless you want to make the dish pop with umami.
Enjoy this with fresh lemonade or lime soda to heighten the flavors. Or, pair it with a refreshing garden salad to offset the richness. Love carbs on carbs? Have a basket of garlic bread ready to scoop up the luscious sauce.
Ingredients for Creamy Pasta With Salmon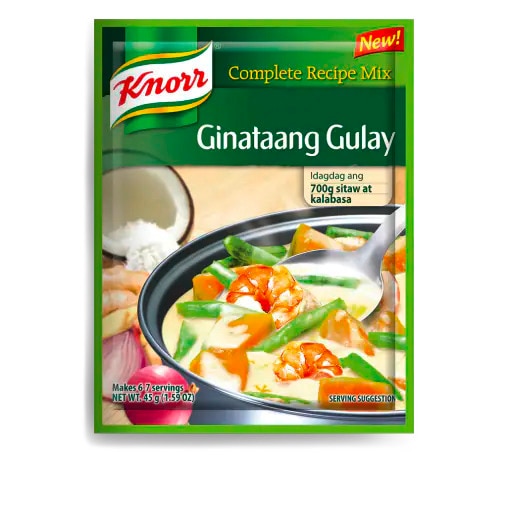 1 pc salmon fillet, sliced into strips
salt and pepper, to taste
500 g linguine pasta
water, for boiling
1 pack Knorr Ginataang Gulay Recipe Mix
2 tbsp canola oil
½ cup sliced leeks
4 cloves garlic, chopped
1 cup all-purpose cream
1 tsp truffle oil (optional)
sliced leeks and toasted garlic, for garnish
How to Make Creamy Salmon Pasta
Step 1
Season salmon with salt and pepper. Heat a nonstick pan over high flame. Sear fish, skin-side down, for 30-45 seconds. Flip and sear until fully cooked.
Step 2
Cook linguine until al dente according to package directions. Drain and set aside.
Step 3
Dissolve Knorr Ginataang Gulay Recipe Mix in water. Bring to a boil. Lower heat and simmer until thick.
Step 4
In another pan, heat oil over medium flame. Sauté leeks and garlic until fragrant. Stir in prepared gata mix. Lower heat, then add cream. Add cooked linguine and toss to combine. Remove from heat.
Step 5
Mix in truffle oil, if using. Transfer to a serving platter. Top with salmon, leeks, and garlic. Serve immediately.
Thirty minutes is all you need to make this salmon recipe. It combines the ease of last-minute weeknight meals with the indulgence of premium, restaurant-quality dishes. In the end, you get something that will fit into any holiday spread! Serve it with lemon wedges or calamansi for citrusy freshness and chili flakes or oil for spice enthusiasts. Love cooking with salmon? Try this resto-inspired baked salmon or the classic sinigang na salmon belly next.