Adulting means budgeting your earnings to cover basic living expenses (housing, clothing, nutrition, etcetera). Unfortunately, rising prices have been causing more people to sacrifice guilty pleasures to keep within their food allowance. Are you looking for a way to enjoy your favorite food while pinching pennies? Cook budget-friendly versions of your go-to ulam at home! This creamy ginataang hipon is one such indulgence that you can easily recreate.
This fuss-free recipe will teach you how to make an umami-rich dish with only a few ingredients. As for its procedure, you'll only go through three easy steps – all without breaking a sweat! Read on to learn what you'll need to cook this affordable ulam.

Ingredients for Ginataang Hipon Recipe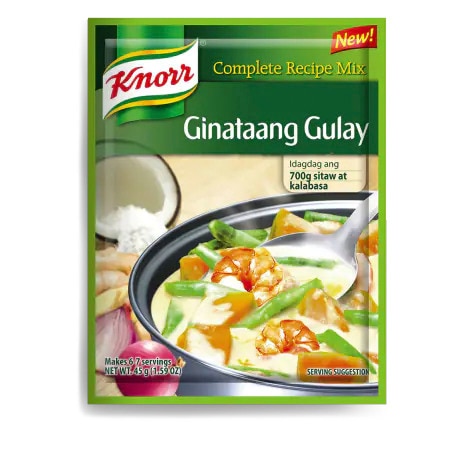 1 tbsp oil
¼ cup sliced leeks
500 g shrimp, trimmed
1 pack Knorr Ginataang Gulay Mix
1 cup water
1 tsp garlic bits
How to Cook Ginataang Hipon
Step 1
Heat oil in a pan over medium flame. Add leeks and sauté until fragrant. Add shrimp and sauté until it turns bright red, about 1 minute.
Step 2
Add water and Knorr Ginataang Gulay Mix; mix well. Bring to a boil.
Step 3
Lower heat and simmer until the shrimps are fully cooked. Transfer to a serving dish and top with garlic bits. Serve hot.
How to Buy Fresh Shrimp
A simple rule of thumb when buying shrimp: use your senses. Good-quality crustaceans should smell briny and somewhat sweet – much like the ocean. The presence of black spots on the shells, sliminess, and a strong ammonia smell are signs of age. Skip these at all costs!
Fresh or frozen shrimp?
Undeniably, fresh shrimp always trumps frozen ones. But not everyone has access to fresh ingredients all the time. Using frozen shrimp for sauce-based recipes shouldn't cause problems. To thaw, just leave them overnight in the fridge. The next day, drain any liquids and cook the shrimp immediately.
How to clean shrimp
Before cooking, it's essential to devein the shrimp properly. Here's a simple three-step guide.
Begin by cutting along the shell's back part, leaving the tail intact.
Take a paring knife and cut along the dark vein on the shrimp's back.
Pull the exposed vein and rinse each shrimp. Pat dry with a paper towel. You can save the shrimp head and shells in the freezer for stock.
Everybody has a favorite way of cooking ginataang hipon. But for the most basic version, start with just six pantry staples. If you want, you can make it heartier by adding vegetables like kalabasa, sitaw, or talong. Including these colorful ingredients into the mix will boost the dish's nutritional value and extend its portion size. Win-win!