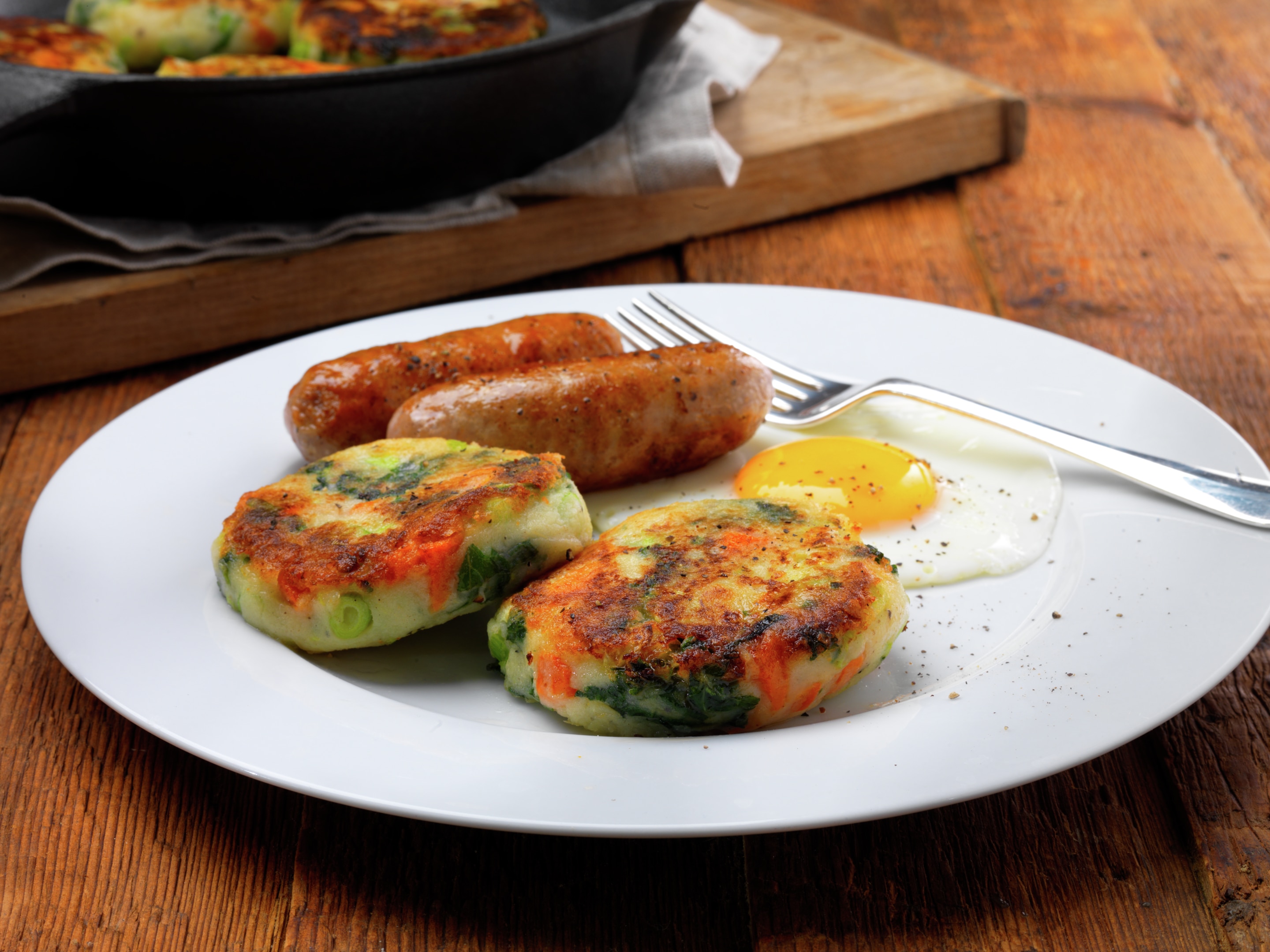 There are so many ways to use up leftover vegetables so there's never a reason to throw them away, cooked or uncooked.
Bubble and squeak is a fantastic way to use up some left over mash potatoes and leftover cooked vegetables e.g. cabbage, sprouts, carrots etc. Mix the mashed potato and vegetables together in a bowl with some Knorr Reduced Salt vegetable granules, some chopped spring onions and some freshly ground black pepper.
Heat some olive oil in a non-stick frying pan and divide the mixture evenly into 4 large or 8 small mounds in the pan, flattening them lightly with the back of a spatula. Turn the heat down a little and fry on each side for 5-7 minutes. Serve hot straight from the pan.
If you fancy something a bit more spicy for breakfast or brunch try softening some chopped onion and finely chopped garlic in a oven proof frying pan with a touch of oil. Add some diced chorizo and cook for about 2-3mins on medium heat. Now throw in your left over potatoes, sprinkle in some Knorr Reduced Salt vegetable granules and cook for 5 mins, add some chopped parsley and crack in a couple of eggs. Pop in the oven for a few minutes until the whites of the eggs are cooked and the yolk still runny. Delicious!
One of the best ways of using up leftover vegetables is to make some soup. If your left over veggies are uncooked, first heat a dash of olive oil in large pan, add some chopped onions and garlic and cook gently for a couple of minutes, now add the remaining chopped vegetables and cook gently for 4-5 minutes, at this point you can add some boiling water and a Knorr Vegetable Stock Pot.
Bring to the boil and simmer for 20 minutes. Try adding some small pasta for a change with some herbs and season with some freshly ground black pepper.
To make your soups spicier try adding some slices of red chili in with the onions and then add a few extra slices of red chilli and some fresh coriander leaves after the soup had been blended. Crispy pan fried croutons are delicious, snipped chives, swirl of cream, crumbled blue cheese, crisp crumbled bacon bits all give a lovely garnish.