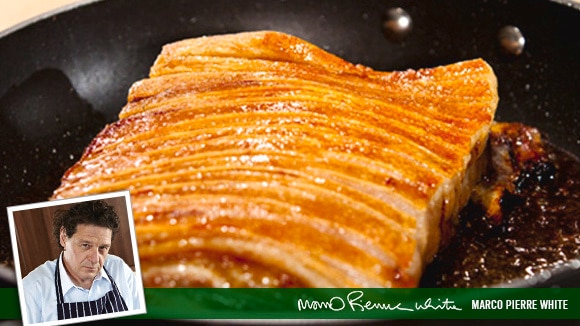 It's very important to put the pork in a cold pan
I'm very partial to a bit of good pork crackling. To my mind, one of the treats when you cook roast pork is the crackling which should always be golden brown in colour and crispy in texture.
So how do you achieve perfect crackling?
Scoring the skin
First score the skin, cutting parallel lines about a cm apart. You need a very sharp knife for this, something like a Stanley blade is ideal. You can always ask your butcher to score it for you. The scoring helps release the fat underneath the skin, so that as it roasts it becomes crispy.
Use a cold pan and fry before roasting
Place the pork in a cold pan on top of the stove, skin-side-down, with a little olive oil and gently heat it for 5–10 minutes so that the fat starts to come out.
It's very important to put the pork in a cold pan rather than a hot pan, as if it's added straight to a very hot pan it will simply scorch.
Once the skin has been browned and you have got some heat into the pork, you then transfer it to the oven.
Temperature
In my view, the perfect temperature for roasting pork to get good crackling is 160˚C. This slow cooking allows the fat to get golden brown and crispy, gently turning the skin into the perfect crackling.
You can have a look at my Roast Belly Pork with Cider Cream Sauce to see how I do this.
A little inspiration
45 MINS

Easy

10 MINS

10

people

20 MINS

Easy

10 MINS

4

people

40 MINS

Medium

3 H

6

people