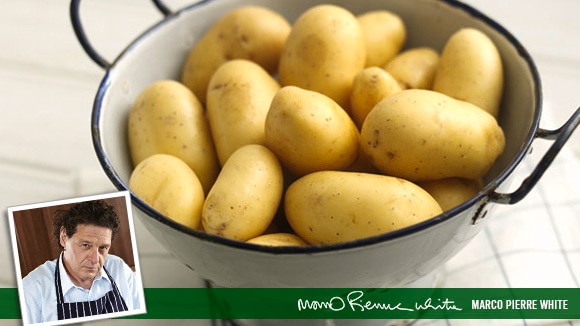 From Charlotte to Desiree to Exquisa and the mighty King Edward

Whether we enjoy them baked, mashed, boiled, roasted or chipped, we are a nation of spud-lovers. It's great that nowadays there are so many different varieties to choose from in the supermarket.

Broadly speaking, potatoes are categorised as being floury or waxy, a reference to their texture when cooked. Floury potatoes are great for roasting or for making light, fluffy mash. Waxy potatoes – often called salad potatoes – have a smoother, firmer texture and are great in potato salads or in dishes where you want the potato to stay firm and hold its shape.
Charlotte
A smooth-textured, flavourful waxy potato, great for potato salads or simply steaming or boiling whole.
Desiree
This versatile, red-skinned, floury potato can be baked, boiled, fried, mashed or roasted. It's also great in potato gratins or Spanish omelette.
Exquisa
A creamy-textured, waxy potato, perfect for potato salads or simply steaming or boiling whole.

One of the flouriest of our potato varieties, this traditional variety is an all-rounder, great for mashing, roasting and for making chips. Try them in my recipe for Roast Potatoes.
Maris Piper
This popular floury potato is ideal for fluffy mash, chips, roast potatoes, baked jacket potatoes and boiling. Try them in my recipes for Marcos Creamy Mashed Potatoes, Cottage Pie or Simple Fish Pie With Peas.
Roseval
A flavourful, waxy potato, ideal for potato salads or steaming or boiling.
A little inspiration
40 MINS

Easy

15 MINS

4

people

20 MINS

Easy

15 MINS

4

people

60 MINS

Easy

15 MINS

4

people