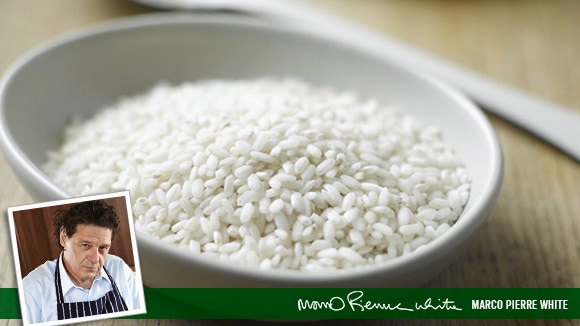 Some people think cooking a risotto is hard, but it's easy
People think making a risotto will be difficult, but actually it's very easy. One thing to do, however, is to have everything chopped and prepared beforehand. That way you can cook your risotto straight through in 20 minutes maximum.
Risotto should always be freshly cooked just before eating. When you make a risotto there are a few things to bear in mind. When it comes to ingredients you must use risotto rice, which will absorb the liquid as it cooks. You also need a good tasty stock, which is where Knorr comes in. Their Stock Pot range is excellent for risottos because of its depth of flavour. Here are a few key rules:
Use a heavy-based saucepan or casserole dish when making risotto, as you don't want it burning as you cook.
Always work the rice, stirring it in the pan. This way the rice cooks evenly, which is very important.
Add in the stock bit by bit, allowing the rice to absorb it, before adding the next bit of stock. This way you get the great creamy texture that a good risotto should have.
When I cook, I'm always looking for the maximum flavour. When you add in the wine to your risotto, boil it down to remove its acidity and concentrate its flavour before adding in a bit of stock.
Cook the risotto to your own preference. Everyone likes their risotto slightly different. I like mine quite wet; others prefer it a bit drier. As a finishing touch, once the risotto is cooked I always mix in a little butter – not too much – and some grated Parmesan cheese. Allow a few seconds for these to begin to melt in and then mix in thoroughly – this gives extra flavour and richness.
A little inspiration
30 MINS

Medium

25 MINS

4

people

40 MINS

Medium

20 MINS

4

people

10 MINS

Medium

30 MINS

2

people