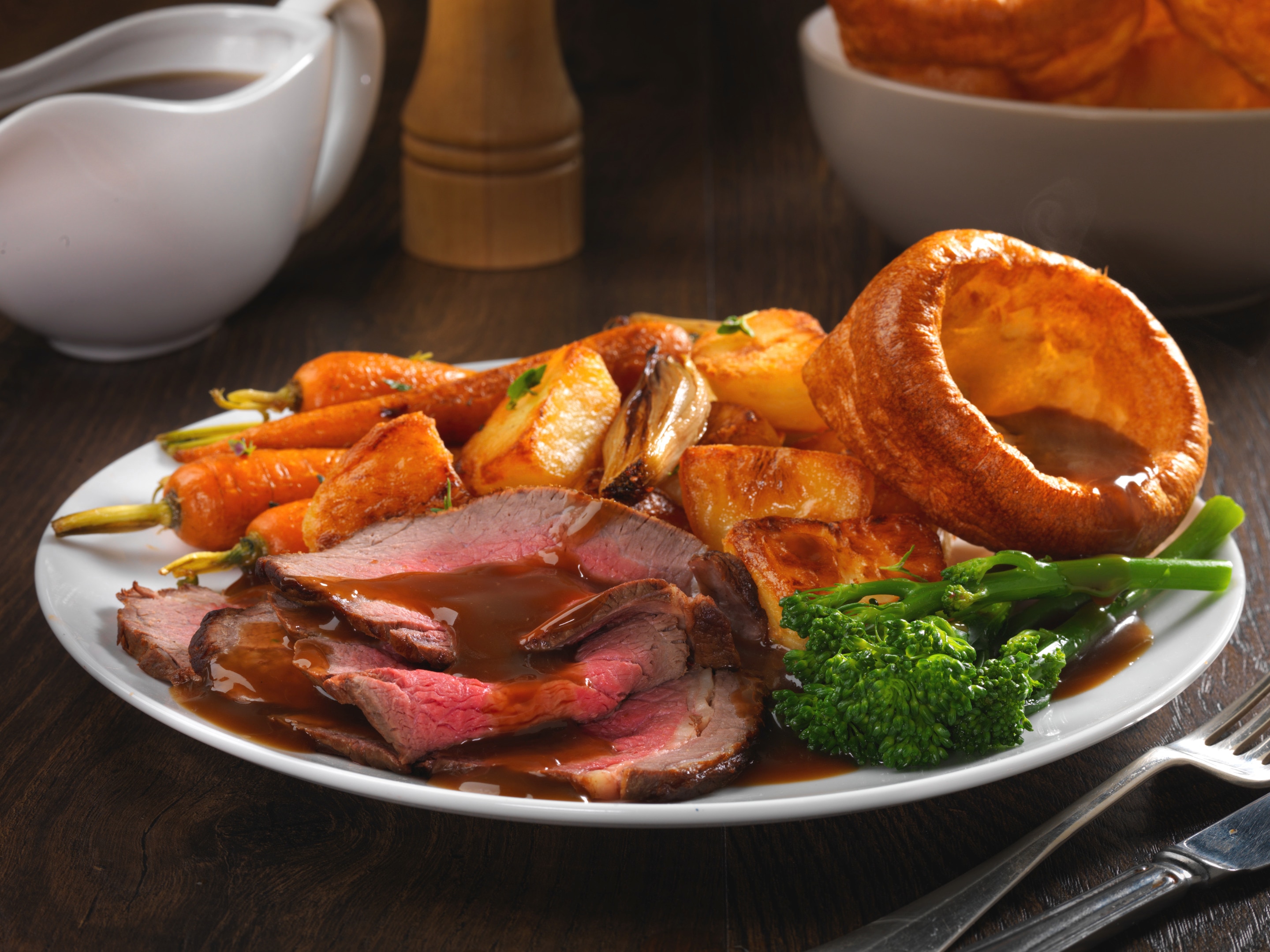 Ingredients
1 tbsp olive oil
A 2 kg piece rib of beef (off the bone, with bones reserved)
2 whole bulbs garlic, halved horizontally
25 g Flora Buttery
350 g carrots
3 sprigs thyme
28 grams Knorr Rich Beef Stock Pot, dissolved in
500 ml boiling water
1 tbsp flour
Cook
Pre-heat the oven to 210°C, 190˚C fan oven, Gas mark 7.
Heat the olive oil in a large ovenproof frying pan. Add in the beef and fry until browned on all sides, for around 5 minutes.
Transfer the pan with the beef to the oven. If your frying pan is not ovenproof, transfer it to a roasting tin.
After 15 mins, add the garlic and reduce heat to 190˚C, 170˚C fan oven, Gas mark 5 and roast the beef for 1 hour; it should measure 45˚C when tested with a meat probe. This gives you medium-rare beef. If you prefer your beef medium take it to 60˚C, while 70˚C gives you well done beef.
Remove the beef from the oven, wrap in foil and set aside to rest.
Make the batter for the Yorkshire pudding at least an hour or so before you want to cook it. Sift the flour into a mixing bowl. Whisk in the beaten egg to form a lump-free paste. Gradually whisk in the milk, beating to make a smooth batter. Season with salt and pepper.
In a separate pan, melt the Flora and sauté the carrots over a moderate heat for 10-12 mins with the thyme until tender.
For the gravy: dissolve the Knorr Rich Beef Stock Pot in 500ml of boiling water, stirring until thoroughly dissolved.
The roasting juices from the roasting tin into a bowl and reserve, skimming off most of the fat. Place tin on the heat, add in the flour and cook stirring for 2-3 mins.
Gradually whisk in the Knorr Stock, bring to the boil, reduce the heat and simmer.
Bring to the boil and simmer for 5 minutes. Strain the gravy into the reserved roasting juices and mix well.
Carve the roast beef into thick slices and place on a warmed serving platter.
A little inspiration
10 MINS

Easy

5 MINS

6

people

3 H 40 MINS

Medium

20 MINS

8

people

40 MINS

Easy

15 MINS

4

people