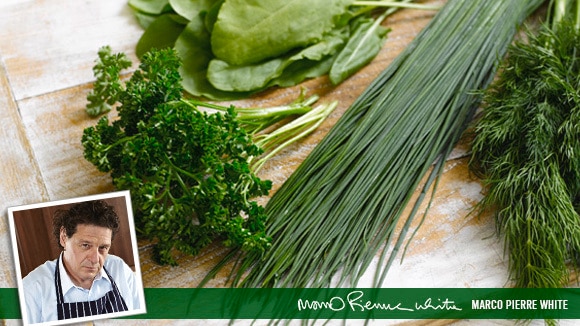 Adding flavour and colour to your cooking is very simple
As you've probably noticed when you watch my cookery videos, I always like to use a lot of herbs, both in the dishes and as a garnish.
Why do I like using herbs? It's very simple – they give a wonderful flavour, even when used sparingly.
Over my years in restaurant cooking, I've learnt which herbs go well with which types of food, so I thought I'd share my knowledge with you.
Basil: For me, fresh basil is the taste of the Mediterranean. I like to use it with whole baked fish, such as sea bream or sea bass. It also goes brilliantly with tomatoes. Try tearing fresh basil over a simple tomato salad, made using the ripest tomatoes you can find or use it in my classic Tomato Sauce.
Bay: Adding just one or two bay leaves gives a great aroma to dishes such as slow-cooked beef casseroles or sauces. I also like to use it with shellfish, such as in my indulgent take on Mussels with White Wine.
Parsley: Fresh and not overpowering, parsley is a supremely versatile herb which goes well with many foods, from fish to vegetables, hence Carrots in Parsley Sauce. It's also great to pair with beef by creating a parsley butter; try my recipe for Steaks with Flavoured Butters for a stylish meal.
Rosemary: Fresh rosemary is a great match for fatty foods such as lamb or oily fish as its powerful, clean flavour cuts through the fattiness. Try my Lamb Chops with Olives and Rosemary or Mackerel with Salsa Verde and you'll see what I mean. Rosemary has got a strong enough flavour to be partnered with gutsy tasting ingredients such as garlic.
Sage: Much-loved by the Italians, who use it with pulses, I like to use this aromatic herb with pork – as in my Pork, Sage and Onion Stuffing or Pork Chops with Apple and Sage – a classic British combination.