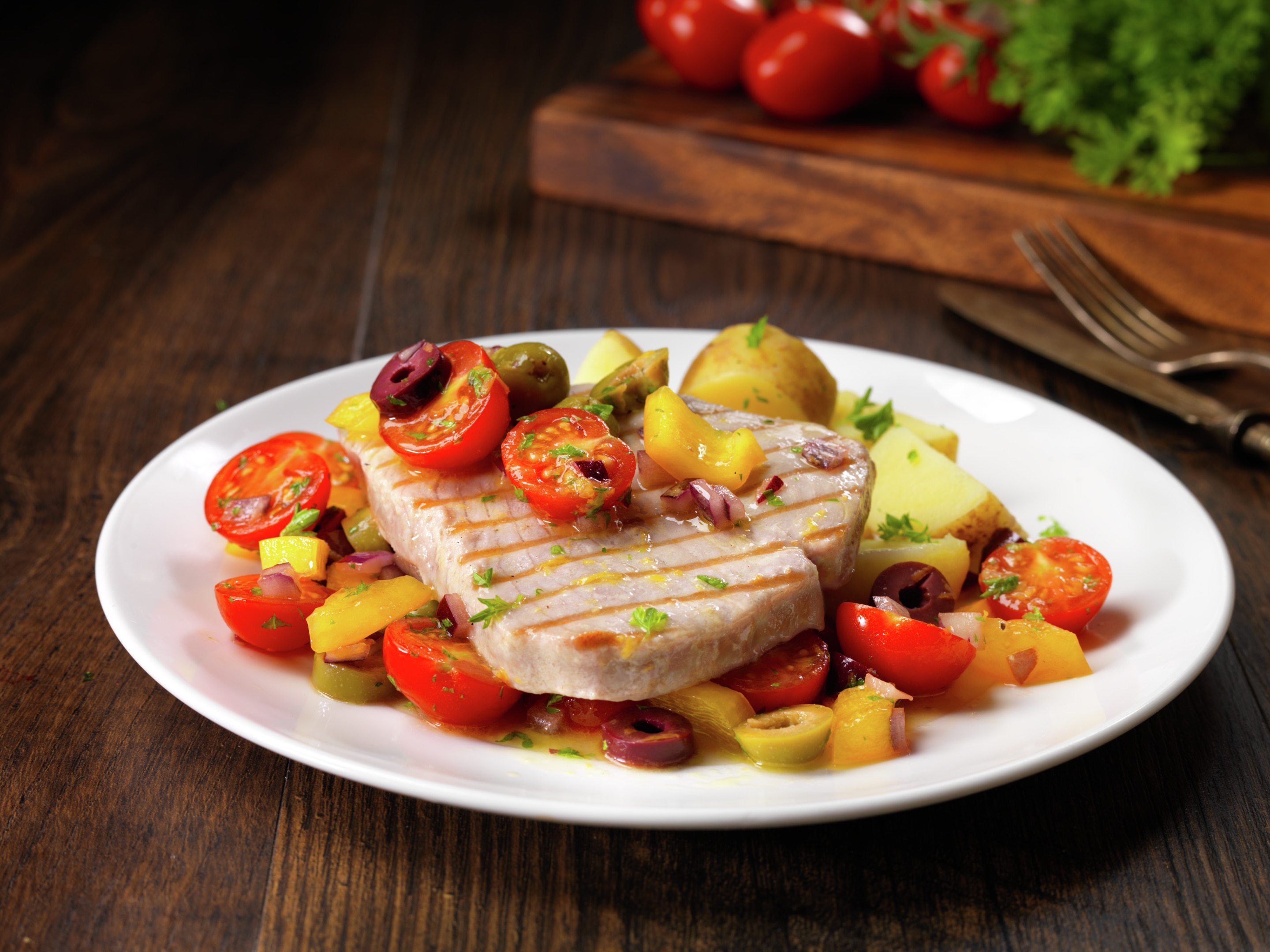 There are numerous ways of cooking fish to create incredibly tasty and nutritious meals, so if you're a salty sea lover then get yourself down to your local fishmonger and check out what's available. There's usually a wide range to choose from, which varies through the season and more than enough ideas to get you going on your next cooking adventure. Various cooking methods can be applied to most types of fish and here are some of the most popular.
Frying
Pan frying or sautéing helps to crisp up the skin, cooks the fish quickly and avoids the large amount of fat used in deep frying. A great way to sauté is to start by cooking the fish skin side down. This is great for salmon steaks for example.
Make sure the oil is really hot and place the salmon skin down in the pan. Be sure to only cook 2 steaks per pan, otherwise the fish will reduce the heat of the oil. Cook for 2 mins on high heat, then reduce the heat to medium and continue until the fish has cooked two thirds of the way through, basting the skin with the oil from the pan.
The secret is just to leave the fish to cook, turning only once. A great way of bringing in bags of extra flavour is to crumble a Knorr Fish Stock Cube into some olive oil to form a paste then gently rub the paste all over the fish before cooking. This really brings out the flavour of the fish and helps crispen up the skin.
A crumb coating helps to protect the fish, keeping it moist but with a crisp coating. Use 3 containers, one for flour with a pinch of black pepper, one for beaten eggs, and one for breadcrumbs. First, dip the chosen fish in the seasoned flour, then the egg, and then the breadcrumbs. After breading, place the fish in a nonstick skillet or pan that has been brought to a medium-high heat. Cook approximately 3 minutes per 2cm of thickness. Breading is especially great for firm fish such as cod, hake and halibut.
Deep Frying
The other option for frying, is of course, deep fry – suitable for plaice or goujons of fish such as lemon sole or cod. For a tasty, crisp and fluffy batter, mix equal parts of flour and cornflour and equal parts of beer and sparkling water. Add the beer and water into the flour mix until it reaches a medium thick consistency and whisk well.
Place the fish in the batter, then place gently into a deep pan of hot vegetable oil and cook until the fish floats to the surface of the oil. Remove with tongs and leave to rest on paper towel to soak up the excess oil.
Baking
Baking is one of the healthiest and easiest ways of cooking fish. Most types can be baked, but generally speaking, the thicker the fish, the better it is for baking. It's usually best to wrap the fish in foil to prevent it from drying out. It's important to keep an eye on the fish to ensure it doesn't overcook.
Another great way of baking is "en croute", where fillets or portions of fish are wrapped in puff pastry, usually with a sauce or filling in between the fish and the pastry, the most popular fish for baking this way is salmon.
Poaching
Another great way of cooking fish is by poaching. Poaching involves gently cooking in a heated liquid, this liquid is often made up of white wine, fish stock, herbs and milk or water. When poaching fish, ensure that just enough liquid is being used to adequately cover the fish and cook covered for approximately 10 minutes for fillets and up to 20 minutes for a whole fish. Be sure to keep the liquid on a gently simmer, if it's too hot it will overcook and break up the fish.
As a rough guide, for rolled fillets of sole and plaice, poach for 4-5 minutes. For white or smoked fish fillets and fish steaks that weigh around 200g each, poach for 6-8 minutes, depending on their thickness. For whole fish weighing 300-350g then poach for 8-10 minutes. A great tip is to save the leftover liquid from the poached fish and use it to make a great sauce that can then accompany the dish.
Grilling and BBQ
Grilling or barbecuing is most suitable for fish which is larger, meatier or fattier. Fish steaks such as swordfish or salmon work well and oily fish such as sardines and mackerel are also great as the higher fat means they are less prone to sticking. Whole fish such as trout and other fresh water fish are good for grilling. To provide the best grilled fish it is important to take into consideration the thickness of the fish.
When barbecuing or grilling fish ensure that the grate has been brushed with a generous helping of oil to prevent the fish from sticking. Additionally, ensure that the fish being grilled is at least 4 inches above the flame or heat source. Cook for approximately 4 mins on each side or until the fish is cooked through.
Light up your barbecue well in advance and wait for the coal to reach the desired temperature and flames to die down. The coals should have a red glow with a powdery white surface before you start to cook.
You can of course grill whole fish, bone-in – this is sometimes the better option as leaving the bone in does retain more moisture. Make diagonal slits through the skin into the flesh, rub in some herbs, add some halves of lemon slices and grill – delicious!
Steaming
Steaming is a great way to get fantastic flavour and freshness into the fish, especially when using ingredients such as soy sauce, freshly squeezed lemon or lime juice and generous handfuls of freshly chopped herbs such as coriander.
There are plenty of ways to steam but bamboo steamers are the perfect size for a couple of fillets and take up very little room in the kitchen. Bass, bream, lemon sole, brill, cod and plaice are all great for steaming as well as turbot fillets and you'll be surprised just how tasty steamed fish can be when cooked well. Ginger, chilli and spring onions are also popular flavour options, and fast-cooking vegetables such as pak choi or mange tout can also be added.
You'll need larger pans for steaming whole fish and be careful, the cooking process is much quicker than baking, so be sure to keep checking to see if the fish is done. A good test with whole-steamed fish is to poke a skewer fully into the centre of the fish. Leave it there for 10 seconds. Then pull it out and press it against your hand – it should feel hot when the fish is cooked.
Steaming in Paper
A fantastic and delicious way of cooking fish is "en papillote", which is steaming fish in parchment paper. This method helps provide an incredibly tasty and healthy fish dish within 30 minutes. Best with firm-fleshed white fish such as haddock or cod, "en papillote" allows you to incorporate herbs, fish or vegetable stock and oils that further enhance the flavour of the fish as it cooks.
To serve, keep the fish wrapped in the paper and your friends and family can enjoy unwrapping at the table and savour the incredible aroma. Just be careful to ensure no one burns their hands when they unwrap.
A little inspiration
30 MINS

Medium

15 MINS

4

people

5 MINS

Easy

15 MINS

4

people

25 MINS

Easy

25 MINS

2

people